The Confidence Factor
"Provocative! The sections on the mental and emotional bodies and the four elements of energy are powerful stimulators. The five energy traps and the conditions that trigger them resonate. There is a nucleus here. A transforming undercurrent. On its own The Confidence Factor may not change your life, but it can change the way you think about living in a positive, confident, productive way. Well done Linda. You hit the spot!"          George Napier – Chairman & CEO Prince Sports, Inc.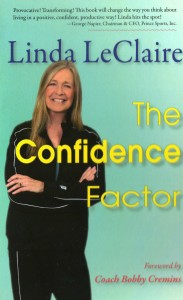 We are happy to announce that The Confidence Factor has arrived!
Many of you have been asking us when it would be available for purchase. Thank you so much for your enthusiasm and for your patience.  If you pre-ordered The Confidence Factor, your autographed copy is in the mail! 

If you haven't already ordered  The Confidence Factor, go to our Products page now for details on ordering.
We are looking forward to hearing from you and getting your feed back on this much awaited book.
"Finally! A practical, easy to use book on how to activate confidence from within!  Linda LeClaire is the best Mental Coach I have worked with in my coaching career. Her work on Confidence is groundbreaking!  If you want your athletes, no matter the sport, to play with more confidence, then this book is for you. Linda knows coaches and she knows athletes. Its short, concise chapters offer step by step directions on how to activate confidence. This is exactly what coaches and athletes want and need! I recommend it highly!"                                                                  Coach Bobby Cremins -
College of Charleston Head Coach, Former Georgia Tech Head Coach,
Three ACC Tournament Championships, National Coach of the Year